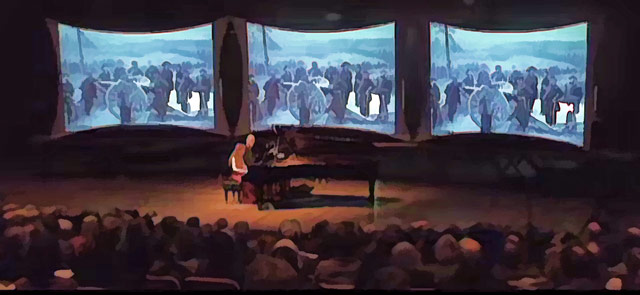 Sarah Cahill
Concert Programs
The Future is Female
The Future is Female is a ritual installation and communal feminist immersive listening experience featuring more than forty compositions by women around the globe, ranging from the 15th century to the present day, including new commissioned works. This flexible program is available as an evening-length recital performance or as a marathon performance and is ideal for concert halls, museums, and gallery spaces. The marathon performance duration is between four to seven hours, allowing audience members to sit and listen for any length of time, with the ability to come and go, as well as the ability to walk around the space. Featured composers include Elizabeth Jacquet de la Guerre, Maria de Alvear, Galina Ustvolskaya, Frangiz Ali-Zadeh, Florence Price, Hannah Kendall, Anna Thorvaldsdottir, Kui Dong, Meredith Monk, Vítězslava Kaprálová, Deirdre Gribbin, Fannie Dillon, and many others.
Chaconnes: 1687 to the present
In this program, Sarah Cahill traces the life cycle of the Chaconne, from the Baroque period to the present day. She will follow the trajectory of this compositional form from the music of Handel, Purcell, François Couperin, and Élizabeth Jacquet de la Guerre; through the 20th century chaconnes of Stefan Wolpe, Carl Nielsen, Germaine Tailleferre, and Sofia Gubaidulina; to the present with premiere performances of a new chaconne, Still Cycles, by young San Francisco-based composer Danny Clay, written for Cahill.
The Mystical Tone
The Mystical Tone is an exploration of mysticism and music in the early 20th century. The program features Scriabin's last preludes and Vers la flamme, Dane Rudhyar's Granites and Stars, three preludes by Ruth Crawford, Henry Cowell's The Banshee, Erik Satie's Trois sonneries de la rose+croix, classical works "dictated" to the spiritualist Rosemary Brown, and more. Inspired by Theosophy, astrology, and Transcendentalism, these composers were especially intrigued by the strong connection between dissonance and spirituality
The West Coast Sound
A generation of composers spent their formative years at prominent institutes in California, such as Cal Arts and UC San Diego, as well as San Francisco's Haight Ashbury, known as the birthplace of American counterculture. The influence that these areas had on the composers forever changed the course of modern music. Highlights of this program include a transcription by Kyle Gann on Harold Budd's 1982 live improvisation of Children on the Hill, as well as Ingram Marshall's Authentic Presence, Peter Garland's Walk in Beauty, Michael Byron's Song of the Lifting Up of the Head, Lois V Vierk's To Stare Astonished at the Sea, and more.
The Music of Evan Ziporyn
Inspired by Ghanaian drumming, Balinese gamelan, jazz, and rock & roll, American composer Evan Ziporyn is a world-renowned, innovative artist, who has been at the forefront of new music for the past 30 years. This program encapsulates Cahill's celebration of Ziporyn's piano music, with highlights including Weltscenen (1981), The Water's Fine (1983), and Pondok (2000), commissioned by Cahill. An album of Ziporyn's piano music, recorded by Cahill, will be released in 2018.
The Tudors and the Second Viennese School
Sarah Cahill performs works by renowned composers of the Tudor era, including Orlando Gibbons, William Byrd, John Bull, and more. These works of a less-performed era are juxtaposed against Schoenberg's Suite Op. 25, Webern's Variations Op. 27, and Berg's Sonata. The Tudors and the Second Viennese School emphasizes the comparison of complex keyboard works by composers who lived more than 300 years apart.
Chamber Programs
Duo with Pianist Regina Myers
Sarah Cahill and Regina Schaffer offer several four-hand and duo piano programs, including the four-hand compositions of Terry Riley, which Cahill commissioned; regional premieres of 100 30-Second Pieces by Evan Ziporyn; and recent works by Lois V Vierk, Gavin Bryars, David Borden, and Kyle Gann, along with rarely performed gems by Johanna Beyer and Virgil Thomson.
Duo with Violinist Kate Stenberg
Sarah Cahill and Kate Stenberg, former first violinist of the Del Sol Quartet, perform a program of early 20th century masterpieces for violin and piano including sonatas by Henry Cowell and Ruth Crawford, Three Pieces by Silvestre Revueltas, Johanna Beyer's Suite, and Lou Harrison's Grand Duo.