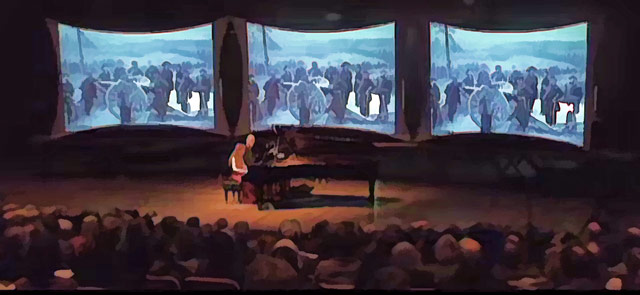 Sarah Cahill
Concert Programs
The Future is Female
The Future is Female is an investigation and reframing of the piano literature featuring more than seventy compositions by women around the globe, from the Baroque to the present day, including new commissioned works. This flexible program is available as an evening-length recital performance or as a marathon performance and is ideal for concert halls, museums, and gallery spaces. The marathon performance duration is between four to seven hours, allowing audience members to sit and listen for any length of time, with the ability to come and go, as well as the ability to walk around the space. Featured composers include Élisabeth Jacquet de la Guerre, Maria de Alvear, Galina Ustvolskaya, Franghiz Ali-Zadeh, Florence Price, Hannah Kendall, Anna Thorvaldsdottir, Kui Dong, Meredith Monk, Vítězslava Kaprálová, Tania León, Fannie Charles Dillon, and many others.
Of recent performances of The Future is Female, Chatham Lifestyle lauded, "The Future is Female was truly a treat: a trip through time and place through a wonderful variety of classical styles," and Indy Week acclaimed, "There's something invitingly contemporary about it, a vital complement to preservation for the vitality of classical piano music."
In conjunction with The Future is Female, Sarah offers online sessions to work with faculty and students about these composers and their music. Sessions can include lectures and demonstrations as well as "blind listening" workshops during which Sarah plays works by both men and women without identifying the composers, and talks with participants about what we conceive as gender in music, as a way to confront our implicit biases. She has also compiled a curated database of solo piano music by women composers through history, which she can share with university/conservatory piano departments. Sarah hopes that students integrate music by women into their repertoire, so that female composers will be heard more often in concert halls.
Endless Shout
Sarah Cahill has worked with George Lewis, Tania León, and Mary Watkins since the mid-1990s, and she premiered and recorded Lewis' four-movement Endless Shout under the composer's supervision. For this program comprising works written by Black and POC composers, Sarah revisits these favorites and juxtaposes them with recent works, including new commissions from Mary Watkins and Regina Harris Baiocchi.
Tania León: Mistica
Regina Harris Baiocchi: Piano Poems
George Lewis: Endless Shout
Aida Shirazi: Albumblatt
Reena Esmail: Rang de Basant
Mary Watkins: Summer Days
Trevor Weston: Eurythmy Variations
Be Kind to One Another
Sarah Cahill has commissioned Frederic Rzewski to compose a substantial solo piano work in honor of Terry Riley's 85th birthday. Cahill has worked closely with Terry Riley since 1997, when she commissioned his four-hand piece Cinco de Mayo for a festival at Cal Performances celebrating Henry Cowell's 100th birthday–the first of six works she has commissioned from him. Of Riley, whom he has known since 1964, Rzewski writes, "I guess he is what you might call a 'good man.' There are not many of these in the world of contemporary music, where generally the rule 'Nice guys finish last' tends to apply. Fortunately, Terry is pretty much recognized for what he is: a good composer and a good person. I was really happy when Sarah Cahill asked me to write a piece for his 85th birthday." The commissioned work, in six movements, is called Humanitas.
Rzewski adds, "The word 'humanitas' means roughly the same as the Greek word 'philanthropia,' or 'love of humanity'. It is found in a letter of Cicero to his brother Quintus, who was governor of the province of Asia, which was found by the poet Petrarca in the 14th century while working in a library in Liège, which says: 'Even though chance has put you in a situation of power over lesser peoples, you owe it to your humanitas to treat them decently'. The word later inspired the cultural and scientific movement known as humanism."
Sarah pairs Rzewski's Humanitas with works by Terry Riley, Margaret Bond, Theresa Wong, and Ingram Marshall. All but Bonds' Troubled Water were commissioned by Sarah, and all contribute to the powerful message of encouraging decency and compassion. The title of the program comes from Terry Riley's work of the same name, which is a quote from the writer Alice Walker a few days after 9/11: "We must learn to be kind to one another now."
Frederic Rzewski: Humanitas
Margaret Bonds: Troubled Water
Ingram Marshall: Movement (Deep in My Heart)
Theresa Wong: She Dances Naked Under Palm Trees
Terry Riley: Be Kind to One Another